Dried flowers with a mixture of fine colours and unique texture are most famous for the decoration purpose. Although they are available throughout the year their importance is increased during the winter season when fresh flowers are not much common. So people prefer dried flowers during this season.
Different methods are used to dry flowers such as paper drying method, air drying method, heat drying method drying with silica gel are much familiar for this purpose. Dried flowers are always available for you in the market. So how can you use them in decoration? Let us describe this in detail.
Dried flowers in a vase
Beautiful Vases are often placed on dining tables or in drawing-rooms; some people even place them in their bedrooms. So, dried flowers can increase the charm of your vase. Place some large flowers on the outer corners while the medium-sized flowers in the middle of the vase. If some place is left, you can fill it with some ferns or flax leaves in that place. Now it will give a look of completeness. Here you go with your beautiful vase with enchanting dry flowers.
Creating a wreath with dried flowers
The wreath is a beautiful arrangement of flowers in the form of a ring and this is used as an ornament for ladies. They are the most liked ornament among women. These wreaths can be used on special occasions such as weddings, they can be used by the bride's maids. Read more here. They are also used on Christmas. Besides using it as an ornament these wreaths are also used as decoration on walls or Christmas trees.
You can get this wreath from flower stores or can do it yourself at your home. All you will need, straw or Styrofoam, some floral pins, wire of 0.0285 diameter, glue and dried flowers or other herbs that you want to add in your wreath.
Next step is to join these flowers, leaves or cones to the base with the help of pins or glue where required. This arrangement should be in a round shape or in a shape that you will create with the wire and adjust the flowers over it accordingly. Now your wreath is ready to be used. You can either hang it on the wall or use it on special occasions.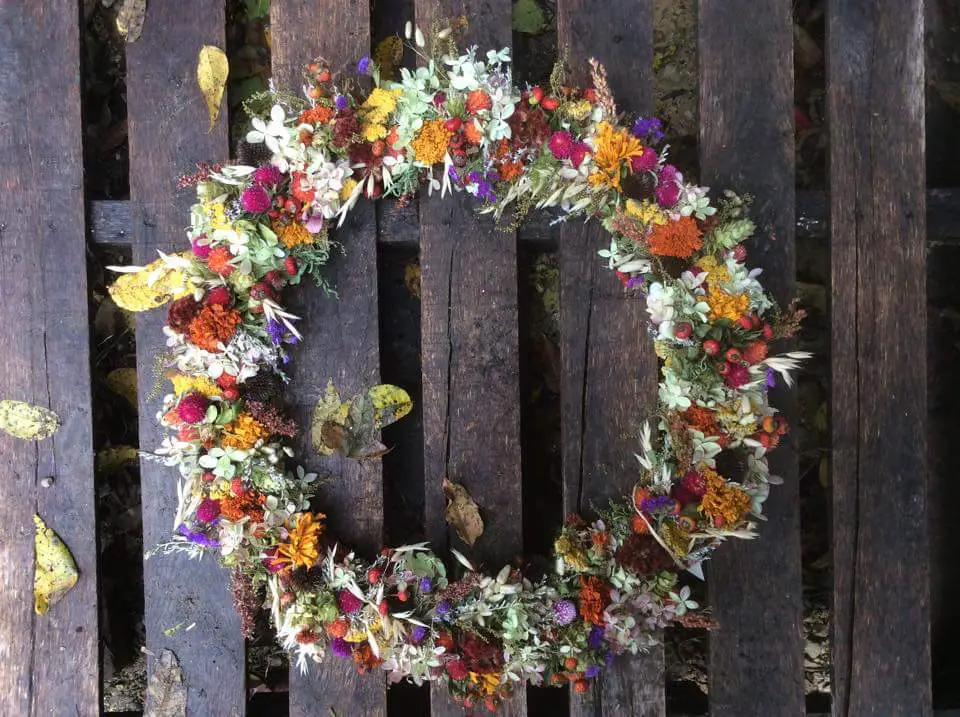 Create unique garlands with dried flowers:
Other than wreaths, dried flowers are also used to create absolute charming garlands. All you need is to collect the flowers, leaves of ferns that you want to add in your garlands. The more flowers you will add the more length the garland will have. You can use these garlands as decoration on Christmas trees, walls or doors.  You can also wear them if required.
Wall decorations:
For wall decoration, dried flowers are the best choice. It will give a mesmerizing look. You can also decorate your photo frame with these flowers to make your memories look wonderful.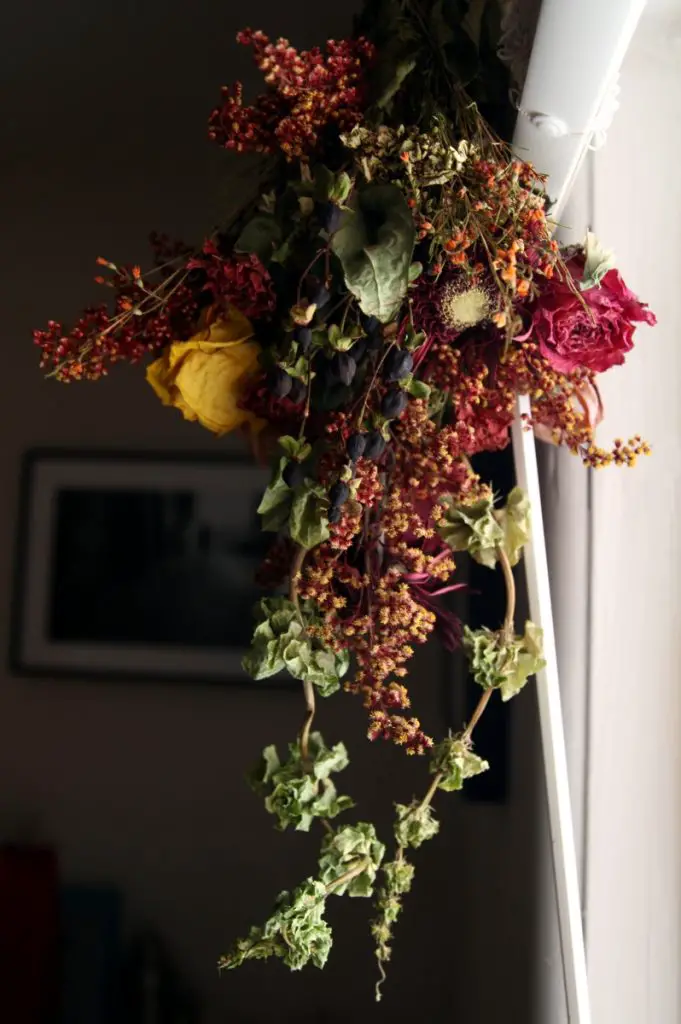 Candle decor with dried flowers
If you know how to make candles then you can also use the dried flower in creating candles. You can add these flower petals in the candle wax and let it dry. You will be definitely happy with the final look of the candle when the wax dries.
Dried flowers in Body care
If you are a herbalist and prepare herbal baths for people then dried flowers are the best use for you. You can use these flowers instead of fresh ones for the customers who are allergic to flowers, in the decoration of the bathtub while preparing for the herbal bath. The aroma of the flowers is mesmerizing. The customer will definitely feel relaxed with the beautiful decoration effect produced by these flowers.
Creation of beautiful letter pads
If you are a person who loves writing letters to your loved ones then you can use dried flowers in decorating the papers. You will need glue and a brush. Paste glue on the page, sprinkle dried petals or full in an arrangement of your own choice and spread them with the help of a brush. Let them dry for some time and check the final results, you will get a beautiful letter pad.  Your loved one would definitely love your effort.
Creating potpourri with dried flowers
Potpourri is the mixture of dry flowers with some fixative and scents are placed in a bowl. The fixative is used to make the scent of the flowers are long-lasting. This potpourri is placed in rooms for the beautiful aroma of dried flowers.
Creating Dried flower bouquet
Some Dried flowers with a mixture of ferns or herbs can be used to create an enchanting bouquet, which would be the best decoration item to be placed in your empty vases.
Uses of Dried flowers in the wedding
These flowers can be the next best choice for your wedding bouquet. If you are allergic to fresh flower but don't like an artificial flower, then dried flower would be your next choice for the wedding bouquet. You can order these wedding bouquets online or can get them by visiting any nearby florist who works with dried flowers. You can also order a bouquet of your own chosen dried flowers. This will be the best memory of your big day. We can use dry flowers in decoration by following all the above-mentioned ways. Now it will be clear to you how you can use these flowers for so many productive ways of decorations.
So for the next time, you might hear someone saying that dry flowers do not have much importance in the home other than home decor, you should definitely show them this article to prove them wrong. After reading this I am sure they will like to try dried flowers in decoration or other many useful purposes. You can get these flowers at your doorstep online by just using our website. You can also choose the dry flowers of your own choice for your bouquets if you want.
Read more about dried flowers
We have a long in-depth article on dried flowers. Here you can get some inspiration on the possible uses of dried flowers.
Other blogs about dried flowers
We have a big collection of blogs regarding dried flowers. Check out these links to learn more about the topic.
The Heart of Stavern
In the very heart of Stavern, a beautiful little town in Norway, lies our store Stavern Blomstermakeri. We focus on interior, creativity and happiness. We are all about that blossoming feeling from the heart. If you have a passion for flowers, need inspiration or are keen to learn more about what we do here in Stavern, feel free to follow us on Pinterest for inspo, Instagram for photos, Youtube for learning or Facebook for the newest updates.