What are wildflowers?
Wildflowers are the type of flowers which do not require human intervention rather they grow freely anywhere particularly in fields, mountains or forest. These wildflowers can also be grown in gardens. The name is due to their specialty of growing by themselves. Most wildflowers grow in shaded or wooded places.
Beautiful colors
Wildflowers have beautiful colors, shapes and fragrances and this makes them expensive and attractive for viewers. Wildflowers are best for creating a bouquet of flowers, decorating homes and planted in gardens.
How to grow wildflowers in my garden?
If you want to grow them into your gardens shade would be needed for their better growth. Some may be found in open places where direct sunlight is be necessary, it depends on the requirement of the plant.
Common wildflowers in Norway
There are countless beautiful wildflowers species exist in Norway here we are going to overview a few of them.
Moss Campion
Moss Campion or Silene acaulis is common among wildflowers in Norway. It grows on the mountains or higher regions. Moss campion is evergreen or perennial flower. It has pink or violet color, tiny star shaped flowers. It grows in dense moss like cushion shapes on the rocks. Top five perennials to grow here.
Alpine Rock-cress
Alpine rock-cress scientific name Arabis alpina – L. is perennial among wild flowers. It has white color tiny flowers with 4 long petals. these flowers mostly grow at mountains or moist rocks. It grows best in shady or semi shaded areas. Its flowers are in different colors as white, pink or purple with fragrance. These flowers are best for ornamental purposes.
Alpine catchfly
Alpine catchfly scientific name Lychnis alpina.  You can find it mostly at rocky places like hill tops, river banks, and stony areas. It has purple fragrant flowers. It is one of the perennial wildflowers and grows in very tough environment where nothing survives.
Arctic Poppy
Papaver nudicaule is the scientific name of Arctic poppy. It is a perennial flower that is available in rocky regions. The flowers are short in length. They are product of spring. They can tolerate temperature. Much humidity is not good for them. The flowers are in the shape of cup and have very delicate petals. The flowers have different colors. Such yellow, orange, red and white.
Purple saxifrage
Saxifraga oppositifolia is the scientific name of purple saxifrage, it belongs to saxifrage family. It often seemed to grow in rocks, cliffs and arctic or alpine environments. These wild flowers are mostly in purple color. Flowers are star shaped with 5 petals and 5 sepals.
Jacob's ladder
Jacob's ladder scientific name as Polemonium caeruleum is a perennial herb. It is seen commonly in forests, meadows, woodlands and mountains. It has beautiful blue flowers which are in a wheel shape. Flower has 5 petals and the flowering time is in July and august. Its beautiful shaped and colors make it perfect for ornamentation.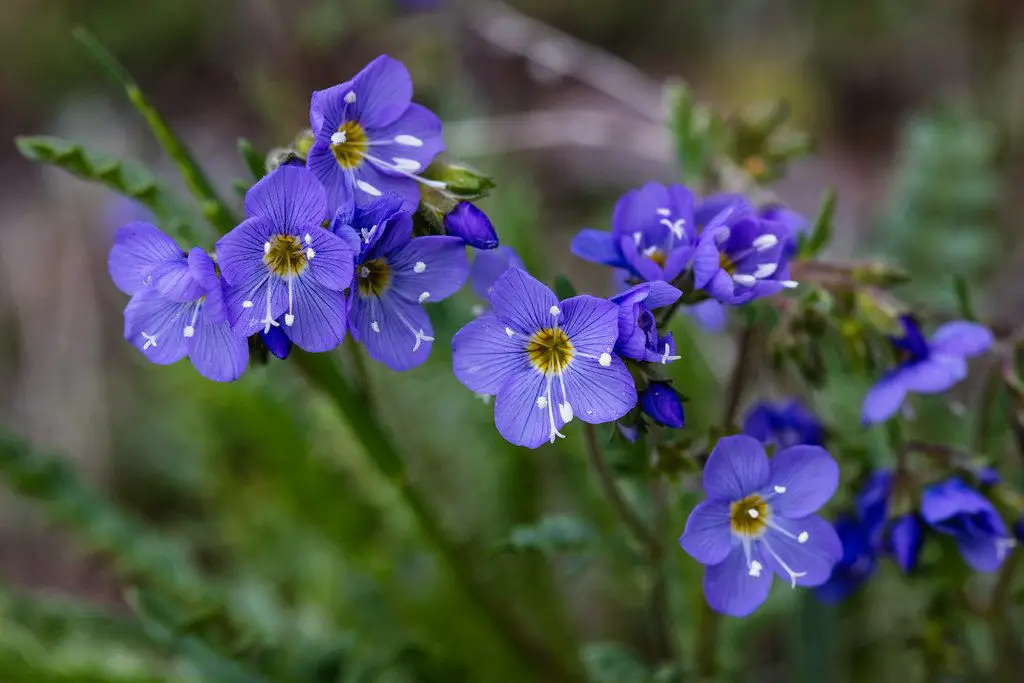 The Heart of Stavern
In the very heart of Stavern, a beautiful little town in Norway, lies our store Stavern Blomstermakeri. We focus on interior, creativity and happiness. We are all about that blossoming feeling from the heart. If you have a passion for flowers, need inspiration or are keen to learn more about what we do here in Stavern, feel free to follow us on Pinterest for inspo, Instagram for photos, Youtube for learning or Facebook for the newest updates.