Medinilla is generally a house plant and it is originated in the mountainous region of the The Philippines. In this region, its name is kapa-kapa. Medinilla belongs to the Melastomataceae plant family. The Medinilla plant loves sunlight but not direct sunlight. During the winter season Magnifica, the plant bears direct sunlight.
Names
Scientific name: Medinilla magnifica
Common names: It has several common names such as showy Medinilla, rose grape, Philippine orchid, Javanese Rhododendron, Magnifica Medinilla.
Classification
| | |
| --- | --- |
| Division | Magnoliophyta |
| Class | Magnoliopsida |
| Subclass | Rosids |
| Order | Myrtales |
| Family | Melastomataceae |
| Subfamily | Melastomatoideae |
| Tribe | Miconieae |
| Genus | Medinilla |
| Species | M. Magnifica |
| Kingdom | Plantae |
Flowering data of Magnifica plant
| | |
| --- | --- |
| Flower | It has particularly Showy flowers. |
| Bloom Time | It is a Seasonal bloomer. It blooms in specific time periods. |
| Bloom Description | Pink to coral-red flowers are produced. |
| Flower color | The most common flower color is pink. |
| Plant Type | It is a Broadleaf evergreen plant. |
| Evergreen | Yes, it remains evergreen in all seasons. |
| Leaf | It has evergreen leaves. |
| Habitat | It is an erect shrub, however typically epiphytic in rainforest habitat |
| Attracts | It attracts birds, butterflies and other pollinated insects |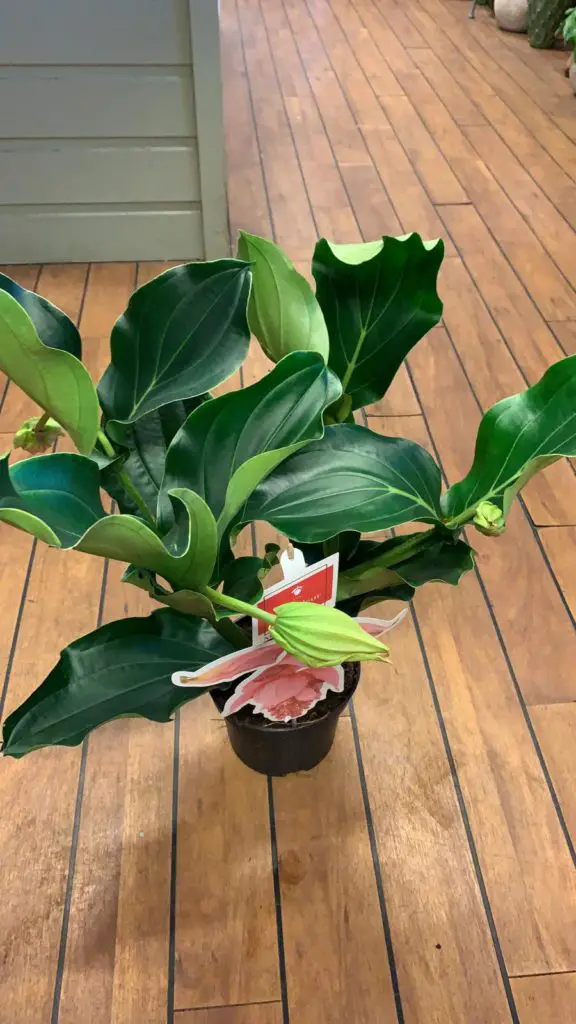 Plant Care
| | |
| --- | --- |
| Water | Medium need of water, therefore, do not overwater them. |
| Sun | A Partly shade of sunlight is enough for plant growth |
| Maintenance | It doesn't require much care. A medium level of care is enough. Provide it with preferred conditions and it will all set. |
| Soil pH | 6.1 to 6.5. |
| Soil type | A well-drained and slightly acidic in nature, |
| Origin | The regions where the plant generally grows |
How to care magnifica plant
Light:
It is better to grow the Medinilla plant in filtered shade to full sun, though it prefers to avoid the direct afternoon sun.
Water:
The Medinilla plant needs water in particular daily routine. The flowers will become limp when there is too modest water. Flowers will bloom effectively when the water need is full.
Soil:
Medinilla plant needs rich, well-drained soil as well as slightly acidic soil.
Temperature:
The perfect temperature ranges from 17 to 25 degree Celsius. Temperature higher than this could be injurious to plant.
Pruning:
After the flowering plant, it is generally good to cut unwanted branches of the plant. after cutting the growth is enhanced.
Plant growth:
The length of this plant is 2-4 feet while it is spread 1 to 3 feet. Whereas, the average size of the plant reaches 3-4 feet.
Fertilizer:
It is advised to apply a liquid fertilizer every week after the flower blooms. Because it is better for the plants to get fertilized once a week.
Where can I read more about evergreen plants?
We have written blogs about a lot of evergreen plants. Here are some examples:
The Heart of Stavern
In the very heart of Stavern, a beautiful little town in Norway, lies our store Stavern Blomstermakeri. We focus on interior, creativity and happiness. We are all about that blossoming feeling from the heart. If you have a passion for flowers, need inspiration or are keen to learn more about what we do here in Stavern, feel free to follow us on Pinterest for inspo, Instagram for photos, Youtube for learning or Facebook for the newest updates.